I have the Beatles rolling through my head at the moment. Just about all there is in there right now.
Socktober Update:
One finished pair of Retro Rib Socks in Knitpicks' Sock in Redwood. No photographs as the camera would not cooperate that day. I'm still not thrilled with the finished(read:fuzzy) product, but they're soooo soft. Very nice on the feet.
One sock:
Sockbug's
River Rapids in Mountain Colors Bearfoot. Color, Lupine.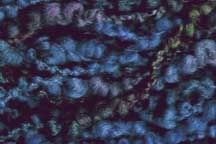 Quite a lovely color, with much more blue than I've ever used before. No pictures of the sock, but I have to say that this pattern is one I'll make again. With the Bearfoot, of course.
I also finished sock one of the Cascading Leaves, shown in the below post.
Bad girl that I am, I cast on for Nancy Bush's Conwy socks in Cherry Tree Hill
Supersock
, colorway Indian Summer. Note to self: Socks on #1s are not as fun as socks on #2s.
And I keep typing 'sicks'. Agh. Probably because we had to take Bobo to the E.R. at 1 am Sunday morning for the croup. Earned himself a shot of epinephrine and a neb treatment. Three kids with croup all in the same week. Here's hoping that the Princess will come home healthy enough tonight for the massive costume parade and candy fest that is Halloween in our neighborhood...